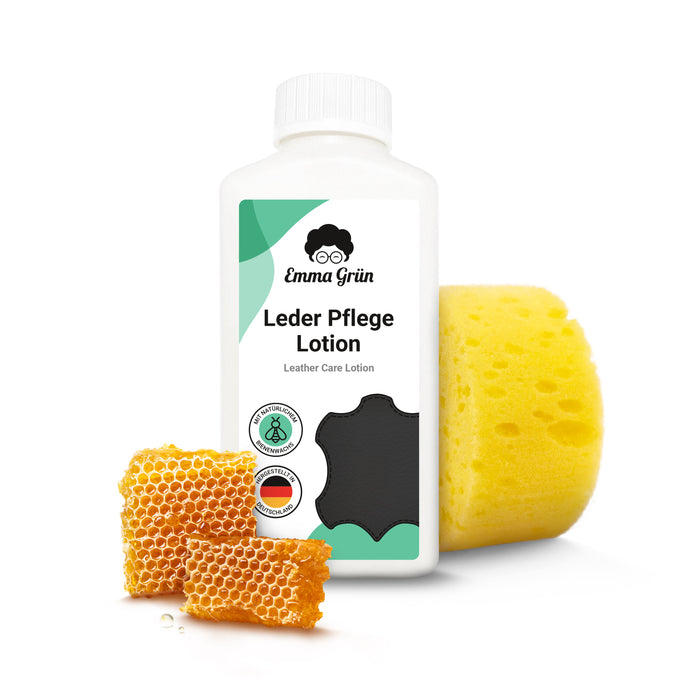 Leather Care Sofa Lotion 250 ml for the care and protection of leather sofas and leather furniture
Availability:
in stock, ready to be shipped
Availability:
in stock, ready to be shipped
Availability:
in stock, ready to be shipped
Availability:
in stock, ready to be shipped
📦 Kostenlose Lieferung in 1-2 Tagen ab 25€
FAQ: Antworten auf häufige Fragen

Ist die Lotion verträglich für Haustiere?

Ja, die Lotion ist ungefährlich für Haustiere und hat auch keine Gefahrstoffkennzeichnung. Warte einfach, bis die Lotion in das Leder eingezogen ist. Dann kannst du deinen Liebling wieder darauf lassen.

Ist die Lotion für Büffel- bzw. Ziegenleder, (Semi-) Anilinleder und Nappaleder geeignet?

Ja, solange es sich um Glattleder handelt, ist die Lotion dafür geeignet.

Leder Balsam oder Leder Lotion – welches ist das passende Produkt?

Die Leder Lotion ist flüssiger, das heißt sie dringt besser großflächig in trockenes, rissiges Leder ein. Sie ist daher am besten für große Flächen wie Möbelstücke oder Autositze geeignet. Der Leder Balsam ist ideal für Kleidung und Zaumzeug.

Welche Farbe hat die Lotion?

Sie ist farblos und deswegen für alle Lederarten geeignet.

Wie oft sollte ich es verwenden?

Wir empfehlen einen Abstand von 2 Monaten zwischen Behandlungen. Aber auch eine häufigere Anwendung tut dem Leder nur gut.

Kann ich mich nach der Behandlung auf das Sofa setzen?

Vergewissere dich, dass du überschüssige Lotion mit dem Schwamm abgetragen hast und gewartet hast, bis die Lotion vollständig eingezogen ist. Nach wenigen Stunden kannst du dich sicher wieder problemlos darauf setzen.

Wie ergiebig ist die Flasche?

Mit der 250ml Dose bekommst du ein kleines 2-Sitzer Sofa gut gepflegt. Für 3-Sitzer oder mehrere Anwendungen greife am besten zum Doppelpack.

Bekämpft die Lotion auch Gerüche und reinigt sie?

Die Lotion reinigt leichte Verschmutzungen und gleicht kleine Kratzer aus. Wir empfehlen vor der Anwendung eine gründliche Reinigung und dafür zum Beispiel unseren Lederreiniger für alle Leder. Die Lotion riecht nach dem enthaltenen Bienenwachs, für die aktive Bekämpfung von Gerüchen empfehlen wir aber unseren Geruchsvernichter Textil.

Bekomme ich damit auch Schweiß- und Wasserflecken raus?

Ja, auch dafür ist der Reiniger sehr gut geeignet.
☔️ Protects against dirt and moisture
✓ Moisturizing & nourishing
👍 Free from resins, silicones & aerosol
🍀 Good for the environment
😉 Made in Germany